Hefeweizen
(HEH-feh-vite-zen) is just one of several types of German weissbier. Weissbier is a German beer brewed with malted wheat in additon to malted barley.

Weizen is German for wheat, and refers to the Bavarian (Southern Germany) style of Weissbier.
Hefe is German for yeast, and refers to the beer being unfiltered and cloudy.
Hefeweizen (which we now know means yeast wheat) is by far the most popular form of wheat beer.


When a beer is brewed with wheat, you get a beer that is lighter bodied than a beer made only with barley malt. Corn or rice could be used to lighten the beer's body, but using wheat results in a light, crisp, refreshing beer with more flavor than beer brewed with corn or rice.
Krystalweizen (left) vs Hefeweizen (right)
Hefeweizen is a pale straw to dark gold color and the beer is cloudy with a thick, persistent
head of white foam. Sometimes you may find a beer called Krystalweizen, which is a Hefeweizen that has been filtered so that it is clear. This filtered version has less clove and banana aroma than a Hefeweizen.
The particular strain of
ale
yeast (Torulaspora delbrueckii) used to make this beer creates aromas and flavors of clove and banana. There may be a touch of vanilla too, and all these sweet flavors serve to balance the bready flavors provided by the wheat. There is often a citric note to the dry, spritzy finish.
The brewer can somewhat manipulate the creation of these aromas by changing the balance of wheat and barley malts, but German hefeweizen is really a celebration of the yeast.
This is a lighter bodied beer, although the suspended yeast and may add to the perception of body. Hefeweizen is more carbonated than most beers, and this, combined with the wheat proteins remaining in the beer after fermentation, give hefeweizen a thick, persistent head of foam.
Hefeweizens are lightly hopped and show little, if any, bitterness.
These beers are made for summer drinking, but now they are available year-round. Wheat beers don't age well, and you should drink them when they are young and fresh.
By German law, 50% of the grain used to make wheat beers must use must be malted wheat, although some versions use up to 70%; the remainder is Pilsner barley malt.
Here are some classic Bavarian hefeweizens:
Hefeweizen is traditionally served in a tall, thin, curvy glass called a vase, which is tall and thin (similar to a pilsner glass) to showcase the color of the beer and slightly curved to support the ample head of foam, which is one of the highlights of this style of beer.
The slice of lemon that often garnishs the rim of a hefeweizen glass goes in and out of fashion. In Germany, it is looked at ascance (although there is documentation of it's use at Munich's Hofbra
ü
haus in the 1800s), but lemon with hefeweizen is very popular in Australia and New Zealand.
Some feel that the lemon adds to the spritziness of the beer. Widmer Brothers Brewing, the brewers who introduced this style of beer to America in the 1986, suggests adding the lemon.

Other beer drinkers are firmly in the "I don't like fruit in my beer" camp.

If you don't appreciate hefeweizen's beautiful, full head of foam, the citric oil will help dissipate the foam.
Try hefeweizen both with and without some lemon.
Beer snobs may look down their nose at garnishing a beer, but does the world really need more snobbery? I don't think so.
You
are the one drinking the beer, and
you
should drink the beer however it is most enjoyable to
you
. Period.
If I'm going to add lemon to beer, I'm going to go for a Shandy, which is (approximately) half beer, half lemonade. I like to use the San Peligrino brand lemonade because its not terribly sweet. In Germany, this combination is called a Radler. Schoffenhoffer makes a grapefruit radler that I go nuts for. The total alchol is only 2.5%, so you could drink it all day. Today, maybe I will.
In Spain, this drink is called a Clara. Ice cold, it sure helps beat the heat.
But back to the beer. Americans also make hefeweizen, but American wheat beers are less well defined stylistically than German wheat beers.
B
anana and clove aromas seem to sharply devide beer drinkers, who either love 'em or hate 'em. If you don't care for the Bavarian Hefeweizen, American style wheat beers uses a different yeast strain that helps put the flavor emphasis on hops and grains.
American wheat ales have more hops character and less yeast character than German hefeweizens. Flavor-wise, many fall somewhere near American blonde ales with a bit of bready sweetness (think Roman Meal bread!) and citrusy hops.
These beers are pale yellow to gold with a light to medium body and high carbonation, which gives the beer a big, persistent white head of foam – just like the German wheat beers. There may be grain aromas, but you won't get the banana and clove scents. Instead, you might smell a citrusy or floral hop scent. There will be a low to mild hop bitterness that may carry on to the crisp, refreshing finish.
Try these classic American wheat beers: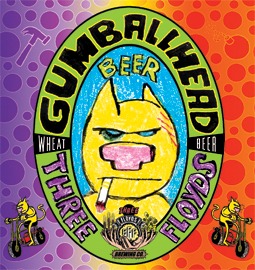 I have read many, many, many fanatical reviews of Gumballhead Wheat Beer by Three Floyds Brewing Company.
Unfortunately for me, it is only distributed in Illinois, Indiana, Kentucky, Ohio, and Wisconsin.

If you are making a trip to Seattle, would you please bring me a bottle? I hear that it goes well with aged cheddar.
What sort of food goes with Hefeweizen?
In Bavaria, hefeweizen is traditional paired with weisswurst (german white sausage) and pretzels. Any kind of cured pork with the accompanying mustard, pickles, and horseradish will all go well with hefeweizen.
German hefeweizens have strong aromatics, so they need food with a personality to match.Try a hefewiezen with smoked salmon or
fried chicken
.
The creamy texture of hefeweizen will also go well with Buratta, which is a fresh Italian cheese made with a shell of mozzarella stuffed with a combination of mozzarella and cream. Silky texture of the beer mirrors the texture of the cheese, while the beer's bread and fruit flavors complement the cheese. You could also try wheat beer with plain mozzarella.
Try having one for dessert! You could play off the banana and clove aromas of a Bavarian hefe by pairing it banana bread or banana pudding. Trust me. I am a professional.
American wheat beers go well with salads. They pair to leafy greens and can handle vinaigrette or creamy dressings.
Wheat beer also works with a light, tangy
chèvre
. Put some
chèvre
on your salad and hefeweizen will really start to sing.
Hefeweizen has lemony highlights sitting on a bready base. Think about what sorts of food lemon goes well with. Seafood: shellfish, shrimp (grill it with some rosemary!), lobster.

Hefeweizen is fantastic with lighter Mexican food. It works with beans, rice, chicken, and dishes that don't have a heavy sauce. The heavy carbonation also helps cool the burn from spicy peppers.
Ayinger Ur Weisse, a classic dunkelweizen
Dunkelweizen
is a wheat beer made with grain that has been roasted a little more than Hefeweizen grain.
Imagine a hefeweizen crossed with Negra Modelo (Mexico's top selling dark beer).
The darker, caramel flavors of dunkelweizen are perfect with the darker flavors of heavier Mexican dishes like
mol
é
or enchiladas.
Or try a dunkelweizen with some smoked Gouda. Yeah, that's the stuff...