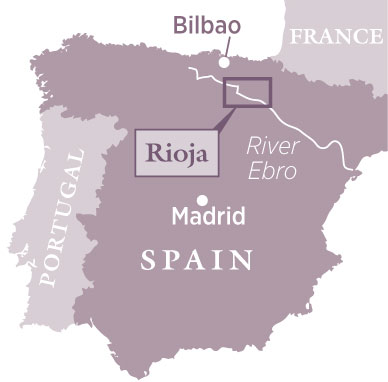 Rioja
is Spain's most recognizeable wine region, and the
Tempranillo
grape plays a major component in the wines that come from Rioja.
Tempranillo (Tem-Pra-KNEE-yo) is Spain's most common red grape, where it goes by a number of names depending on where it's planted and where the wine is made. To keep things simple, this post will focus on the Rioja region of Spain, where the grape is called Tempranillo.
Tempranillo is an early ripening grape whose name comes from the Spanish word
temprano
, which means
early
. It yields a ruby colored, slightly opaque wine with medium body, soft acid, and soft tannins.
Tempranillo tastes of red fruit - strawberries, bing cherries - and plum, but what makes tempranillo stand out is its earthy, savory quality.
Think of Tempranillo as a cross between Pinot Noir and Cabernet Sauvignon.
Tempranillo
is the primary grape of Rioja, and some Spanish wineries, called
bodegas,
use 100% Tempranillo to make their wines. Sometimes this information is on the label, sometimes it is not.
The Rioja wine region has three subsections: Alavesa, Rioja Alta, and Rioja Baja. In this context the
Alta
refers to the land being at a higher elevation than Rioja
Baja
. Rioja Baja is the flatlands approaching the Ebro river. Higher elevation leads to higher acid in the fruit, and acid is an important component of wines meant to be aged. The fruit from Rioja Alta is considered the most desireable, but that doesn't mean that wine made from grapes grown in other parts of this region isn't spectacular.
In addition to Tempranillo, wines labeled as being made in Rioja may include three other types of grapes:
Garnacha – which is also called Grenache. It provides lots of fruit flavor.
Mazuelo – which is also called Carignan. It provides acidity and body.
Graciano – provides aromatics.
Spanish winemaking has a strong emphasis on aging, and the oak barrel is a key component.
Spanish wines have designations that reflect how long they are aged before the bodega releases them for sale. Bodegas make a practice of holding wine in their cellars and releasing it as it matures, so that the wine is ready to drink when it is put on the market.
In the early 1800s it became cheaper to import American oak and make the wine barrels in Spain (a process called coopering) than to import finished oak barrels from France.
Today, many Spanish winemakers are again using French oak barrels, which produce a smoother, rounder wine that lacks much of Rioja's traditional earthiness. I think that this goes to show that while many wine drinkers are slavishly devoted to tradition, wine makers seldom are.
Rioja wines have slightly different
minimum
aging requirements than wines made in other parts of Spain.

For Rioja wines, look for these labels on the back of the bottle:


Rioja
wine (formerly labeled
Joven
) spends less than a year aging in an oak barrel. This designation is also used by winemakers who are choosing to make wine in a modern style not covered by Spanish wine regulations.
Grand Reserva
wines spend
at least
two years in an oak barrel before aging a
minimum
of 3 years in the bottle.
Don't worry, it
IS
a little confusing, but you don't have to memorize this information to enjoy the wine. Rioja has a
control board
that inspects Rioja wine producers, and this ensures a similar flavor profile on wines of similar designations.
What does a Crianza wine taste like?
Bodegas LAN is a large producer that was purchased by
Sonogrape
, a multinational wine company with good distribution, so it should be easy for you to find. If your local wine shop needs to special order it for you, tell them that it is imported by
Grape Expectaions
.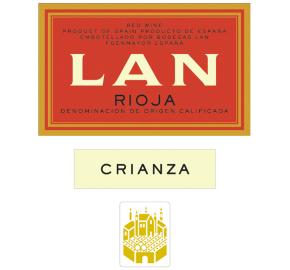 The LAN red label is the Crianza. With a Crianza, the winemaker is aiming for a good daily drinking wine, and I think that this wine hits the target. It cost me $11 at the West Seattle Thriftway, less if you buy a whole case. This is a great deal, so get a bottle, pour a glass, and take a sniff and a sip.
This Crianza is 100% Tempranillo. Notice that strawberry flavor with the characteristic earthiness. Also notice the little hint of vanilla. The vanilla flavor comes from the oak barrel, and I think that the touch of vanilla is the perfect counterpoint to the earthiness of the wine.
This wine also makes an excellent Sangria. I like to keep Sangria pretty simple. Some sliced oranges, sliced lemons, and some Cointreau
- but e
verybody's recipe is different.
One of my
friends tosses in a bag of jasmine green tea
to add
aroma.
In southern Spain, Sangria is often called
zurra,
and includes peaches or nectarines.
One trick I use is to add frozen

strawberries instead of ice
- th
at way the
wine
doesn't get watered down.

Actually
, a
ny type of frozen berries will work - I use strawberries to pick up the strawberry flavors in the wine.
But I digress. On to the Reserva!
How is a Reserva different?
With a Crianza, the winemaker is aiming for a good daily drinking wine. With the Reserva, the winemaker is getting a little more serious.
The LAN blue label is the Reserva, about $18 at the Thriftway.
Reservas are not made every year, they are made only when the harvest is deemed worthy. Winemakers are looking for grapes with enough acid and tannin to merit additional aging. This 2007 Reserva has a bit of Mazuelo and Garnaca added to create a blend that will benefit from the extra aging that this wine gets before being released.
Pour yourself a glass of this one and you'll smell fruit, smoke, and spice. When you taste it, you'll find that the fruit flavors seem a little different than in the Crianza. I get black cherries, maybe black cherries that have been stewed, along with smoke and earth. There's a leathery feel to this wine and this wine is more tannic and full bodied than the Crianza is. You can feel a little gritiness on your tounge and some astringency across your gums.
What about the Gran Reserva?
The brown label is the Gran Reserva, and it may not be as easy to find as the red and the blue labels.
With a Gran Reserva, the winemaker is selecting premium fruit, giving this wine
at least
two years in oak, then holding onto the wine for extended aging before releasing it for sale. A Gran Reserva is a
minimum
of five years old before it can be released, but in common practice, it will probably be pushing ten years old.
This aged wine will have some of the fruit and smoke and spice of the previous two wines, it will also have
tertiary aromas
- aromas that are the result of bottle age. Look for scents of white pepper, tar, and cooked meat.
While Reservas and Gran Reservas can hold up to additional aging after purchase, Spanish bodegas release their wines for sale when they feel that the wine is ready to drink.
This is a nice feature of Spanish wines, and I often take advantage of it.
¡Salud!