Zinfandel
has been a cornerstone of California winemaking since the 1850s when it was planted by immigrants who came looking for gold. Since it's time for your Labor Day barbecue, it's a good time to take a look at this quintessential California wine.
Zinfandel makes a deep purple wine with big, bold flavors of blackberry jam, raspberry, strawberry and plum with spices like black pepper and cinnamon.

Its a classic wine to pair with barbecue!
Zinfandel's origins can be traced back to a Croatia grape called Crljenak Kasteljanski.
There is an Italian grape called Primitivo that is also a close relative of Zinfandel, and the wines are fairly similar.
This grape makes aromatic, rich, dark, full-bodied red wine with a higher than usual alcohol content. Zinfandel wine gets that high alcohol because Zinfandel grapes like to grow in hot climates.
Grapes grown in hotter climates get riper and contain more sugar. The extra sugar means that after fermentation the wines will contain more alcohol.
High alcohol does several things to wine:
it adds a little tingle to the back of your throat.
it increases the perception of body in the wine.
accentuates the heat in spicy food.
Zinfandel wine varies in alcohol levels.
Check the label when buying Zinfandel and look for the percentage of Alcohol by Volume (ABV). A lower alcohol Zinfandel (about 13.5% ABV) will have a lighter body than a bold and spicy Zinfandel with 16% ABV. Higher alcohol Zinfandels will also have more spice flavors, such as cinnamon and black pepper.
I like to look for Zinfandels with about 14% ABV. If you find one with higher alcohol than that, I'd suggest pairing it with food that is rich and not too spicy.
Zinfandel is grown in several different areas in California.
The Sierra Foothills is the most eastern area of grape growing. High elevation vineyards (like those in El Dorado County) produce grapes with high acider, which leads to wines that are easier to pair with food. They also may have a little less fruitiness and a little more minerality than wines from grapes grown on a valley floor.
Lodi is a large, flat area in the floor of California's central valley (Modesto) that is home to large production wineries.
Napa Valley is west of the central valley, and is California's best known winemaking area. Napa makes great wine, and they also have great marketing.
Sonoma Valley is between Napa Valley and the Pacific Ocean. The big temperature swings between day and night get the fruit ripe, yet retain enough acid to balance the alcohol and make a more food-friendly wine.
You can also find Zinfandel grown in Paso Robles (near San Luis Obispo) and in Rancho Cucamonga (inland from Los Angeles). Paso Robles Zinfandel will have a lighter body than most other areas.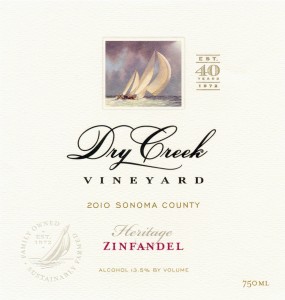 Dry Creek Heritage Zinfandel is from Sonoma County, is pretty easy to find, costs about $15, and is a total crowd pleaser. Its a great introduction to Zinfandel.
You'll get great fruit dark fruit (as opposed to red fruit) aromas with warm baking spices and smooth tannins.
Kenwood Vineyards Zinfandel is another good introd
uction to this wine.
These two producers make great introductions to Zinfandel, and if you want to try more, then treat yourself to some Turley Zinfandel from Napa Valley. Turley makes several wines, the majority of which are single vineyard, old vine, organic Zinfandels.

Old vines tend to produce smaller yields of fruit with more concentrated flavor, and single vineyard winemaking allows the wine to express characteristics unique to that little bit of property. Turley will run $40-$60, but its worth the splurge. But it might not be right for a big barbecue shindig.




Enjoy your Labor Day weekend!