Sauvignon Blanc (SAW veen yon BLAHNK) is a white grape that, more than almost any other grape variety, directly reflects it's growing climate in the wine it produces.
Sauvignon Blanc is a high acid wine, mouthwatering and an excellent companion to food, and a very aromatic wine. It's flavor varies wildly, depending on the climate where the grapes were grown.
When picking out a Sauvingnon Blanc, it pays to match the flavor qualities you desire to a particular wine region to look for.
What does Sauvignon Blanc taste like?
Sauvignon Blanc is easy to identify because of herbaceous flavors of grass, jalapeño, bell pepper, and gooseberry.
Cooler climates will produce grapes with flavors of lime and green apple, while grapes from warmer climates develop flavors of passion fruit, white peach and nectarine.
Ooh, that smell.
A key characteristic of Sauvignon Blanc are it's intense aromatics, which come courtesy of a family of sulfur compounds called methoxypyrazines. The crazy thing about these compounds is that in different concentrations, they produce different aromas.
The same chemical that smells like passion fruit will, in a different concetration, smell like cat urine.
I am not making this up.
(Now go watch the video clip again!)
The climate of the vineyard determines the concentration of methoxypyrazine compounds in the grapes, and the grower attempts to manage these concentrations with a variety of pruning and harvesting techniques before the winemaker attempts to adjust the concentration of these compounds during fermentation.
Needless to say there are many styles of Sauvingon Blanc available.
Sauvignon Blac has its origins in France.
In the Loire Valley, the regions of Sancerre and

Pouilly-Fumé

are considered a cool climate for growing grapes. These two area are across the river from each other and both are famous for their Sauvignon Blac.
This Sancerre from Domaine Andr
é

Feveu reminds me of grapefruit rind and white flowers with a crisp, mineral finish.
Wines from

Pouilly-Fumé

seems to be slighly fuller bodied than wines from Sancerre, and the geology of the area gives

Pouilly-Fumé

a smoky, flinty, mineral quality.
Bordeaux has a warmer climate than Sancerre, and Sauvignon Blanc grown in Bordeaux is usually blended with Semillon and Muscadelle. It is often aged in oak, which gives it a little more body. The blend is labeled Bordeaux Blanc. This Chateau Ducasse comes in a clear glass bottle, so they didn't put Blanc on the label. It's light and crisp and has refreshing white peach flavors for under $15.
New Zealand has made Sauvignon Blanc their signature grape.
In the 1970s and 1980s, New Zealand created an immensely popular style of Sauvingnon Blanc which caused increased production worldwide.
Both of these wines are textbook New Zealand
style

Sauvignon Blanc: Tart, grassy, green fruit flavors, and very aromatic. Zippy is a good description. The best examples come from Marlborough, which is at the north end of New Zealand's south island.
Cloudy Bay has attained a cult status, so when you find it, it will be almost $30, twice as much as the Kim Crawford.
California grows Sauvignon Blanc,
In the 1970s, Robert Mondavi aged Sauvignon Blanc in oak in attempt to create a French-style wine. The wine was called Fum
é

Blanc, and this term has been adopted by other California winemakers, but it is just a marketing term.
But Washington State's is more aromatic.
Sauvignon Blanc from Washinton State is more aromatic than Sauvignon Blanc from California because of Washington's cooler climate, but less aromatic than New Zealand Sauvignon Blanc.
Chile makes great Sauvignon Blanc.
Chilean wines are an excellent value! If New Zealand Sauvignon Blancs are at one end of the intensity spectrum, Chilean Sauvingnon Blanc is at the other end. Not bland by any means, just a little less intense than Sauvignon Blanc from other areas.
What sort of food pairs with Sauvignon Blanc?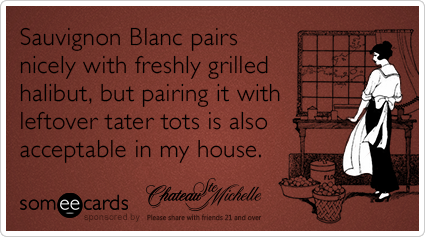 Sauvignon Blanc is light and crisp, making it an easy match for lighter seafood. The tartness of the wine also makes it a great partner for goat cheese, and the high acidity helps it stand up to any vinaigrette used on a salad or vegetables.
Sauvignon Blanc's high acidity make it a good choice for accompaning foods that are challenging to pair wine with, such as asparagus or artichokes.
Asparagus contains a sulfur compound that can make wine taste metallic and artichokes contain cynarin, which often makes wine taste sweet.
For asparagus, try lightly peeling the outer layers just below the flowering head. Alternately, you could grill the asparagus, or grate a little parmesan cheese on top. Heck, grill 'em and then put
parmesan

on 'em!
Grilling also makes artichokes pair with wine a little better.
Sauvignon Blanc also makes an excellent summertime white wine spritzer. Put a sprig of rosemary into the bottle in the morning and come happy hour, mix it with a little sparkling wine or club soda.
Now step away from the computer and go enjoy some Sauvingnon Blanc out on the patio.
Don't forget your sunscreen!